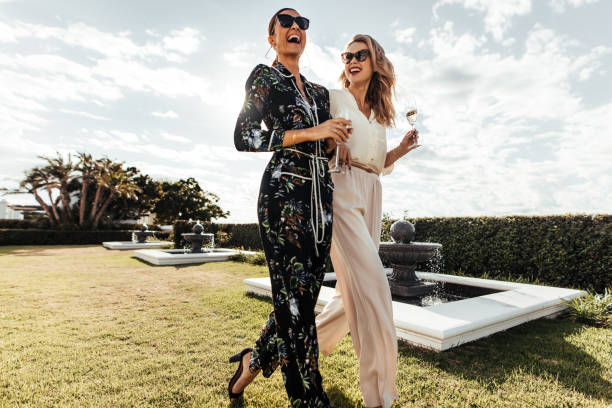 We don't recommend living by the "new year, new you" mantra. And we wouldn't advise overhauling your lifestyle because it's a new year. However, there's no harm in making small, manageable, and positive changes in your life. Many people find the new year a great time to organize their lives and list what they need, especially regarding clothes. It is a great time to decide what should be kept and what should go.
We must make better decisions about our wardrobes, whether we keep old clothes or buy panic-shopping pieces that will only be worn once. It doesn't have that way.
We have listed 15 wardrobe resolutions you can start now to make your closet more spacious, save money, and look better than ever.
Do not buy something for one occasion
It's something we all do. It could be a wedding, a birthday, or a Friday night dinner with friends. Going somewhere new and exciting can make us feel like we need something unique, so we buy something. Despite how much we love the piece we bought, it only gets one use.
You don't need to buy something for specific events. Instead, have a few dressier pieces that can be worn on all occasions. You can wear it repeatedly if you choose something classic and timeless instead of trendy. It will always be a different look if you accessorize well.
Only buy or keep something that is right for you
It is not unusual to keep items that don't fit you anymore, hoping they will one day work again. You may also buy an article in a smaller size to lose weight or to get something that isn't your standard size. If you want to reduce your wardrobe size, keeping these items around is a bad idea. Be honest and realistic with yourself. It's time for you to get rid of it or donate it.
Do not buy or keep anything that isn't right for you
Many of us also keep things we don't like. We often buy something because it's trendy or someone else has worn it. But it doesn't fit us, so we don't take it out of our closet. A piece of clothing that doesn't make you feel confident and comfortable is not a good fit for you.
Do not buy something because it is a bargain
Significant discounts can easily entice you. Don't buy it just because it's cheap. It doesn't matter how affordable it is; it is a total waste of money if you don't wear it.
Get rid of anything you don't need when you buy it
A great way to keep your wardrobe in a manageable size is to use the one-in, two-out policy. Every time you add a new piece, you take it out and sell it or give it to charity. This will not only keep your shelves and rails from cluttering, but it will also help you be more confident about the items you purchase. Buying something you don't love is impossible, and you must give up something you love about your wardrobe.
Swap clothes with your most fashionable friends
Swapping pieces with friends is a great way to keep your wardrobe fresh. You can change your old clothes for something you don't wear and trade them for something you love. Trading clothes is a great way to have an exciting wardrobe, whether hosting a clothes swap party with a large group of friends or making a deal with just one friend.
Do not indulge in extravagant shopping sprees
We can get stuck in fashion ruts and feel like we have nothing to wear. This is a common problem. We end up going on massive shopping sprees and spending a lot of money on trendy items that will end up sitting in our closets for years, never worn. Do not let this happen. Keep an eye out for pieces you love all year, and take note of what you don't have. Instead of returning to square 1 every few months, consider it a continuous and evolving process. You can repeatedly purchase one piece of clothing instead of two big shopping trips yearly. This will result in better decisions and a more stylish wardrobe.
Try to find new brands
We also get stuck in style ruts because we are attached to certain shops and feel comfortable with them. While having a few trusted brands you can rely on and know well is excellent, many unique new brands are available. Keep exploring the market year-round, from high-end brands to affordable mid-range labels. You will find special, fashionable finds you won't find anywhere else.
Take tough decisions
People don't like to throw things away. Sometimes, parting with clothing can mean letting go of memories. This must be challenging. It's okay to let go of everything you love, even if you don't wear it for many decades. You can try it out and see if you like it. It's time to let it go if it doesn't get out of your sight.
Create a uniform
The biggest misconception about fashion is that you shouldn't buy anything similar to what you have. No one wants a complete wardrobe of only 15 pairs of navy blue jumpers or ten pairs of identical black skinny jeans. Feel free, however, to use the knowledge you have about what suits your needs. The most fashionable women in the world all have a uniform. They know what they like and stick to it when choosing new pieces.
Your wardrobe is your closet
Although it sounds obvious, forgetting what's in our wardrobes is easy. Many of us will have great pieces hidden away for years or forgotten about during lockdown. Before you buy anything new, you need to have a clear picture of your closet. You can see what you already have and avoid buying unnecessary items.
Invest in the things you already have
Many of us throw away pieces as soon as they become damaged. However, just because something is worn doesn't mean it should be thrown out. You can invest in the pieces you already own by learning about local repair services, such as sewists or shoe and handbag restorers. It's worth paying more to fix things than buying the same thing repeatedly.
Rentable fashion is something you should embrace
It's now easier than ever to rent clothes thanks to increased sustainability awareness. There are also many fashion-rental agencies. It is an excellent way to get a stylish wardrobe. You can feel like you're wearing something new for special occasions such as weddings and parties. You can also be more adventurous and try new pieces.
The hanger trick is a great way to determine if a piece is wearable
Place all your hangers in the same direction at the start of the season. Turn the hanger in the opposite direction each time you wear a piece. You will quickly see what you are wearing and what you don't. Fanny Moizant, Vestiaire Collective cofounder, says women usually wear of their wardrobe.